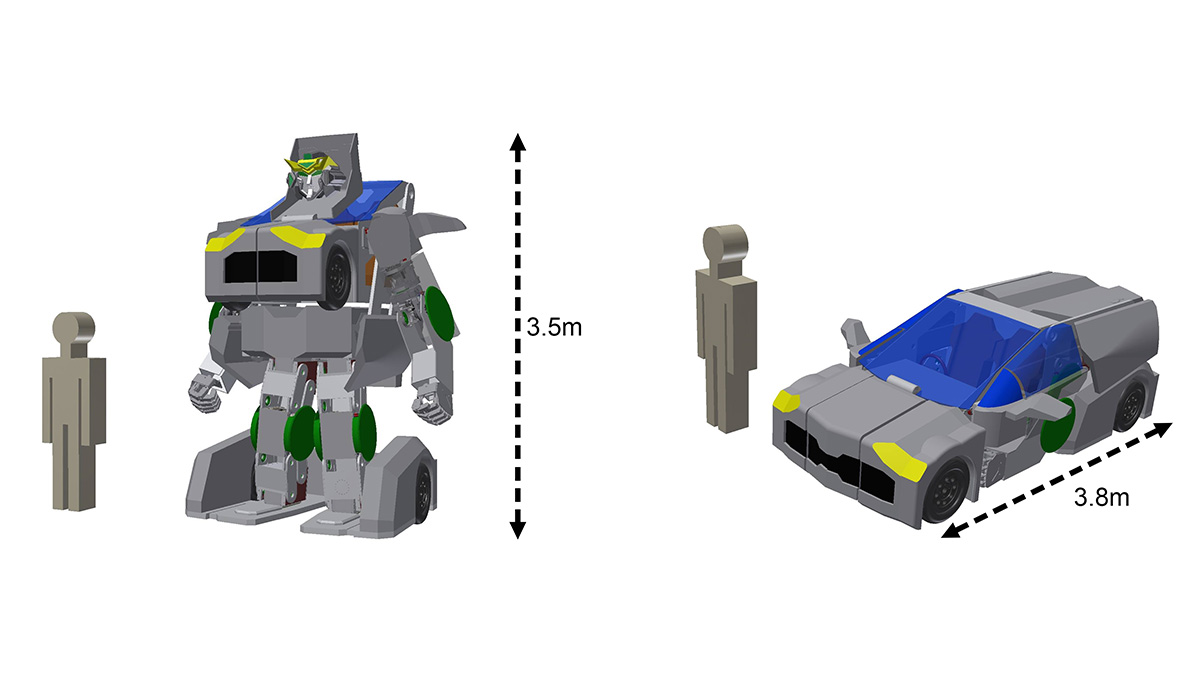 Just started the development of J-deite RIDE!
Brave Robotics and Asratec started joint development of a huge transforming robot "J-deite RIDE".
"J-deite RIDE" is the high-end model of the "J-deite Quarter" which was announced last year, and it also adopts Asratec's robot control system "V-Sido OS."
We aim to complete development in 2017 and development process will be continuously announced on this website.


Specification table
| | |
| --- | --- |
| Model name | J-deite RIDE |
| Model number | J-RIDE-2016 |
Humanoid mode
Vehicle mode
Full length
2100mm
3800mm
Full width
2500mm
1700mm
Total height
3500mm
1400mm
Maximum wheel speed
30km/h
60km/h
Maximum walking speed
10km/h
–
Minimum turning radius
0m(Ultra pivot turn)
5m
Wheel base
–
2660mm
Tread
1620mm
1500mm
Leg pitch axis distance
300mm
–
Wheel drive system
2WD(Differential drive)
2WD(RR)
Wheel drive motor
Electric motor + speed reducer
Transmission
–
Steering
Leg yaw axis+Wheel differential drive
Steer-by-wire
Grip
Right hand, left hand
–
Tool use
Right hand, left hand
–
Body weight
700kg
Tire size
145R12 6PR
Riding capacity
2 adults
Seat height
2100mm
400mm
OS
V-Sido OS
Maneuvering method
Direct manned maneuvering inside cockpit or unmanned remote control via wireless or wireline
Interface
Steering wheel
3 pedals
Shift lever
Joystick
Speech input
Steering wheel
3 pedals
Shift lever
Frame Material
Aluminum alloy, etc.
Exterior Materials
FRP, etc.
Power source
Lithium-based battery, etc.
Joint drive system
Electric motor + speed reducer
Number of joints
More than 30
Number of doors
2
Transformation time
Less than 10 seconds
Parking space
Supports General Mechanical multistory parking garages
Stable posture
squatting position and upright standing position
Normal vehicle mode
Hanging-bolt position
Upper torso, waist side
* Current specification assumptions. May subject to change in the future.